Hello! It's been a long time since I have last posted here and I am so kicking myself in the behind for not being active with my blog. However, today I am overly excited because I have made several major decisions in my life that I am faithful would be more beneficial for me and my family.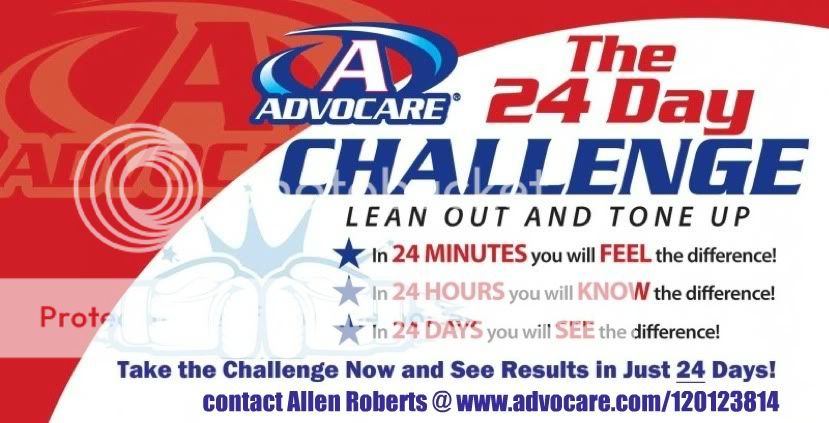 I will start with the first one which I actually started today. (And dont worry I will make sure to share with you all other major changes in my life here pretty soon). I joined several friends who started their weight loss and healthly lifestyle journey a couple of weeks ago. They started using some
AdvoCare
products, which apparently has been in the market for 20 years now (and I haven't even heard of it before). "AdvoCare is a premier health and wellness company offering world-class energy, weight-loss, nutrition, and sports performance products along with a rewarding business opportunity." There are several testimonials in the website about successes in weight loss and health gain but the most important for me is I got to see the results on several friends who started the journey a few weeks ago. It is amazing. Girlie, one of my best friends here in TN started doing the
24 day Challenge
11 days ago. She already lost 6 lbs and about 6 inches on her body. She said her 5 month preggy looking belly just now looks like its a 1 month preggy belly LOL. On top of that she said she feels better, she moves and thinks better and there were days where she does not even have to take her blood pressure medication. I am so proud and happy for her.
That's why I decided to start changing my lifestyle too and started my
24 day Challenge
today! I am going to take this change one baby steps at a time.to meet a few goals I wanted to hit.
First one is to quit my occassional smoking. Alot of people (even some close friends and especially family) does not know that I smoke and now you do lol. It's a habit that just follows me like a ghost everywhere. This time I have made a decision that if I am going to make this healthy change, then that's the first thing I have to give up.
Second is to lose weight and inches. I have tried sooooo many kinds of diet programs, exercise programs, etc. The first problem (which is me) is I don't stick to it. It's because I just don't get the proper motivation and discipline. Alot of the programs I have tried does not cost money and I just cant seem to put my heart in it.
Last goal is to be as active and young as I can be and feel. I am already 33 years old and I have a 2 year old toddler. I want to be there for him and be able to live an active lifestyle with him (considering that his energy is probably about 100 fold more than mine haha). I want to be alive and healthy for him for a long time and hopefully even meet great grand kids! :) Hey its VERY possible :)
My ultimate goals is to just have a better lifesyle, look and feel better about myself and up my self esteem a little bit more. Just having the confidence makes a big difference (at least for me) on how I tackle everything in my life, especially major decisions that involves my family.
I will be documenting my journey starting with the 24 day Advocare Challenge. I will post before and after pictures and share my nutrition and exercise plan as well. Remember, Change is good! :)